Welcome Exchange Students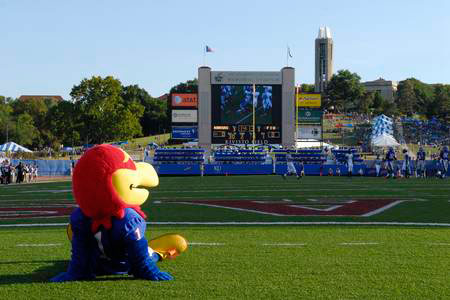 The Office of Study Abroad (OSA) welcomes you to the University of Kansas and the city of Lawrence. The Office of Study Abroad works with incoming students studying at the University of Kansas for a semester or year from our Exchange Partner Universities. We are here to help you meet your academic goals and get settled in your new home in Lawrence.
The University of Kansas
Founded in 1864, the main KU campus consists of 950 acres atop historic Mount Oread in Lawrence, Kansas. KU serves as a major comprehensive research and teaching institution as well as a center for learning, scholarship and creative endeavor. KU has more than 25,000 students including about 1600 international students. KU also has two other campuses nearby: The University of Kansas Medical Center is located in Kansas City, Kansas (approximately 41 miles from the main campus in Lawrence), and the Edwards Campus is located in Overland Park, Kansas (approximately 34 miles from the main campus in Lawrence). However, almost all of your classes will be on the main campus in Lawrence.

The University consists of fourteen different schools; eleven of these schools admit undergraduate students while the other three schools offer only graduate level classes.

The undergraduate schools are as follows:

College of Liberal Arts and Sciences
School of Architecture, Design and Planning
School of The Arts
School of Engineering
School of Music
School of Allied Health
School of Business
School of Education
School of Journalism and Mass Communications
School of Nursing
School of Pharmacy
School of Social Welfare

The graduate schools are as follows:

Graduate School
School of Law
School of Medicine
The City of Lawrence
The city of Lawrence lies in the Kaw Valley, bordered on the north and south by the Kansas (Kaw) and Wakarusa rivers, and overlooked by Mount Oread, the hill on which the KU campus is built. Early settlers called the hill "Hogback Ridge," but it was later renamed after the Oread Academy in Worcester, Massachusetts. The word "oread" comes from Greek, meaning "mountain nymph."

Lawrence is home to two universities, the University of Kansas and Haskell Indian Nations University. Because it is a small city (80,000 people) with a large student population, Lawrence has a small town, friendly atmosphere as well as many of the attractions of a big city. It is know for its art and music scene, along with its wide array of local specialty shops, cafés, and restaurants. In addition, Lawrence is a short one-hour drive to Kansas City, a metropolitan area with a population of over 1.5 million.

Information about the University of Kansas and the City of Lawrence is available in the International Viewbook.