36 Years of Promoting and Preserving German
---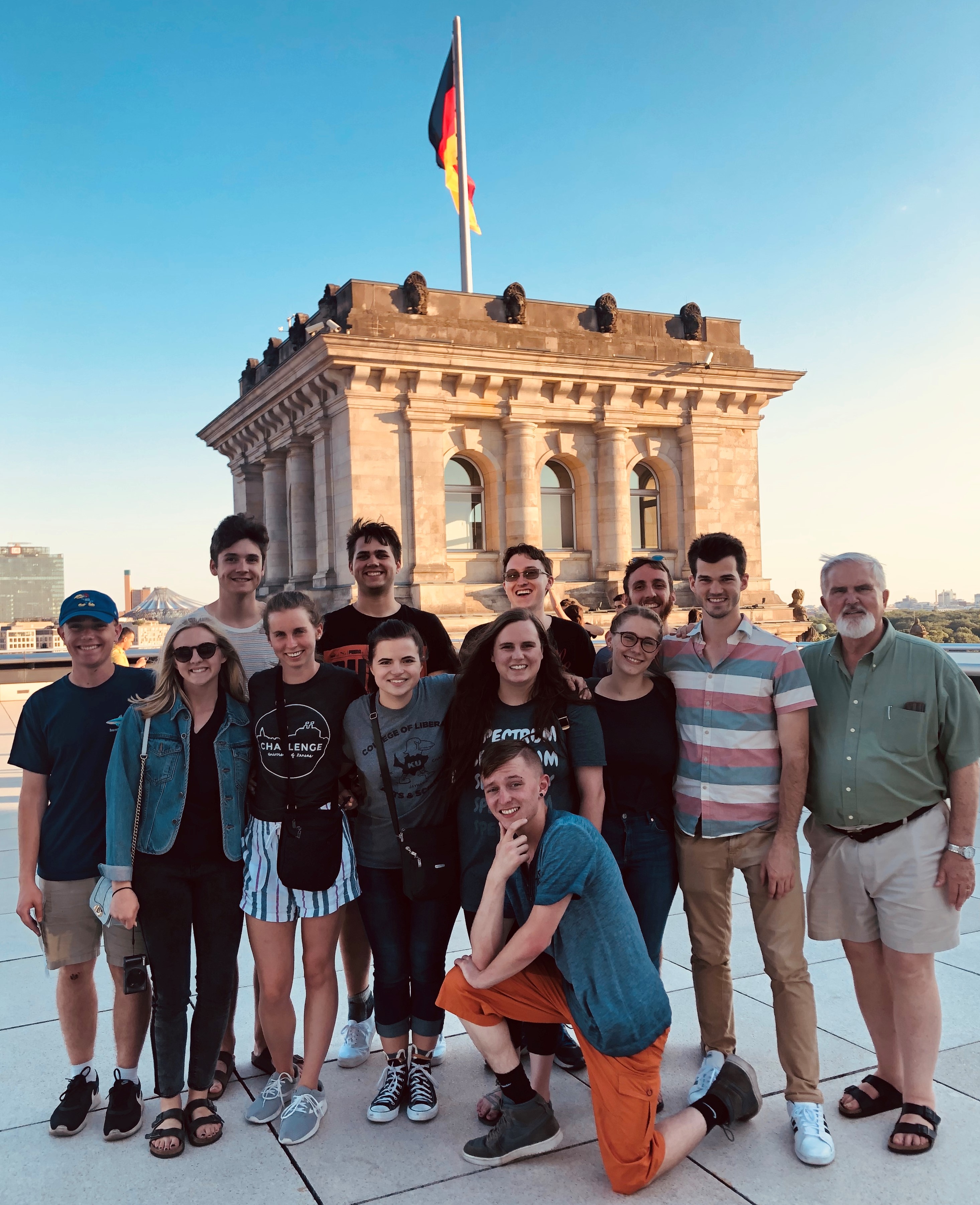 When University of Kansas students arrive for the Summer Language Institute in Holzkirchen, Germany, they are greeted by a band and parade in front of City Hall. In northern Germany, when KU study abroad students reach Hamburg, they are escorted by a fire brigade for the hour and half journey to the small town of Eutin.
Andrea Meyertholen, assistant professor of German, credits these towns' enthusiastic welcomes to the relationships Bill Keel has cultivated over the years. Since 1980, Keel, professor of German, has directed 36 Summer Language Institutes in Holzkirchen and Eutin.
"It's hard to imagine either program would exist without Bill," Meyertholen said of the institutes which have become a summer staple for the towns. "He has been instrumental in building programs and keeping connections. He is such a people person. He's very good at finding opportunities for students and cultivating friendships."
Keel began his teaching career at KU in 1978 and in 1980 led his first Summer Language Institute. His leadership in these roles has provided transformative study abroad experiences for students who may be unable to afford to study abroad for a full year or semester. Keel retired at the end of the fall 2019 semester, leaving a legacy of work that has been equal parts promoting and preserving the German language. Keel was instrumental in fostering the Sister City relationship between the cities of Lawrence and Eutin. He also has spent much of his career traveling throughout Kansas and Missouri to record the fading German dialects spoken in small Midwestern towns settled by German immigrants.
"These are all things that take consistent work and not giving up, and that is where Bill's involvement has been so crucial," said Jim Morrison, lecturer and academic program associate at the German department. "The Sister City relationship, Summer Language Institutes, German dialect work, that's really where his legacy stands. It is amazing what he has been able to achieve and in some ways preserve."
While a portion of Keel's career has focused on promoting relationships between Lawrence and Germany, he has also worked diligently to preserve the German language and its culture in Kansas and the Midwest. Through his research, Keel has become the foremost authority on the German dialects spoken in Kansas and a major contributor to international research on German language speech islands throughout the world.
Along with his research on dialects, Keel also has spoken throughout Kansas about the region's German heritage, visiting nearly all of the state's 105 counties. Keel plans to continue giving lectures through the KU Osher Lifelong Learning Institute, as well as editing the Yearbook of German-American Studies and serving as chair of the Sister Cities Lawrence Governing Board.
"I'm just glad I was able to be in this type of profession when I was," Keel said. "It was almost serendipitous. I came along just at the point that the German dialects were dying out, but could still be studied and just as the Sister City relationship was getting started and I was able to be there to help."