Welcome Exchange Students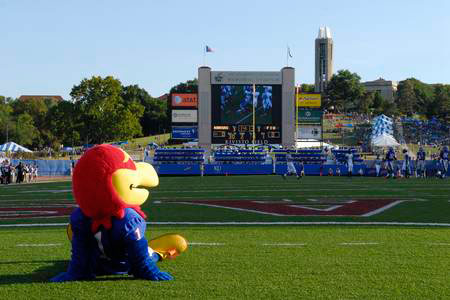 Study Abroad & Global Engagement welcomes you to the University of Kansas (KU) and the city of Lawrence. Study Abroad & Global Engagement works with incoming exchange students studying at KU for a semester or year from our Exchange Partner Universities. We are here to help you meet your academic goals, get settled in your new home in Lawrence, and support you throughout your time at KU.
The University of Kansas
Founded in 1864, the main KU campus consists of 950 acres atop historic Mount Oread in Lawrence, Kansas. KU serves as a major comprehensive research and teaching institution as well as a center for learning, scholarship and creative endeavor. KU has approximately 30,000 students including just over 2,000 international students. KU also has two other campuses nearby: The University of Kansas Medical Center is located in Kansas City, Kansas and the Edwards Campus is located in Overland Park, Kansas (both approximately 40 miles from the main campus in Lawrence). Exchange students do not typically take courses at the Medical Center or Edwards Campuses due to the additional tuition and fees involved.
The university earns excellent ratings in the top college guides. For more than a decade, the Fiske Guide to Colleges has awarded KU four‐star ratings in all categories – academics, quality of living, and social life. KU is famous for the natural beauty of its campus, the high quality of its academic programs, reasonable cost, and diverse cultural and recreational opportunities.
The University consists of fifteen different schools; twelve of these schools admit undergraduate students while the other three schools offer only graduate level classes.

The undergraduate schools are as follows:

College of Liberal Arts and Sciences
School of Architecture, Design and Planning
School of The Arts
School of Engineering
School of Music
School of Health Professions
School of Business
School of Education
School of Journalism and Mass Communications
School of Nursing
School of Pharmacy
School of Social Welfare

The graduate schools are as follows:

Graduate School
School of Law
School of Medicine
KU offers more than 360 academic degree programs. To search for program offerings by school and area of study, click here.