The KU British Summer Institute provides a wonderful opportunity for its participants to combine study and travel in the context of an interdisciplinary academic environment.
Location: London & Edinburgh, United Kingdom
Program Type: Faculty-led
Open to non-KU Students: No
Fulfills KU Core 4.2: No
Fulfills KU Core 5: No
---
Spend one month learning about British culture
Travel throughout Britain, including York, Edinburgh, the Scottish Highlands, and London
Led by English professor Mary Klayder
In addition to the classroom lectures and discussions, reading and writing assignments and final examination, the program of study is enriched by visits to literary sites like the Bronte Parsonage in Haworth in the Yorkshire Dales, world-class museums like the National Gallery and the Tate Modern, historic sites like the Tower of London and Glencoe in the Scottish Highlands, as well as royal palaces and stately country homes. Every effort is made to integrate what the student learns in the classroom with what he/she experiences when visiting historic sites and buildings or viewing artistic masterpieces.
2023 Itinerary
June 2-16
London: In London, members of the Institute will visit such well-known attractions as St. Paul's Cathedral and the new Globe Theatre as well as lesser-known attractions such as the Museum of London and Sir John Soane's Museum. The group will al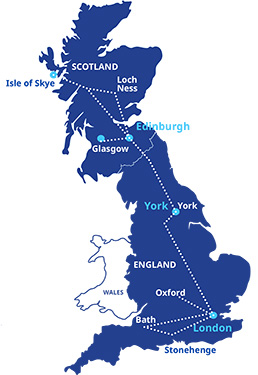 so attend two stage performances. London will be the point of departure for all-day excursions to Oxford, one of the most famous "college" towns in the world, and to Bath and Stonehenge. Students will have a long (three-day) open weekend in London for independent travel and exploration.

June 16 - June 19
York: York is known for its cathedral, medieval walls and the cobble-stoned streets of the Shambles.

June 19 - June 23 and June 25 - July 3 
Edinburgh: Edinburgh, the old capital of Scotland and the seat of the newly reconstituted Scottish Parliament, is one of the most beautiful cities in Europe. Walking tours will introduce Institute participants to the fascinating contrasts between the "New" and "Old" towns. A day trip to Glasgow will also be included.

June 23 - June 25
Highland Trip: This three-day trip will take in the sights of the Scottish Highlands, including Glencoe, the Isle of Skye, Eilean Donan Castle and Loch Ness.
All students will enroll in the following three courses for a total of seven hours of credit.
English 315: British Literature in its Context
(3 hours credit)  The course will explore British fiction, poetry, drama and nonfiction within the land and culture that inspired it.  Besides reading novels from 19th and 20th century England and Scotland, students will see and study two plays, including a play by Shakespeare performed at the Globe Theatre and read poetry and essays specifically connected to the landscape and culture of London and Southern England, Yorkshire, and Scotland, from Edinburgh to the Scottish Highlands.  The classes and excursions will not only enhance the readings but will actively integrate the literature with the art history in the accompanying course.
History of Art 311: The Art of the British Isles
(3 hours credit) This course offers an introductory survey of British art and architecture. Through classroom lectures, readings, and visits to museums, including the National Gallery and the Tate Modern, churches, and other historic sites, selected works of art and architecture are analyzed in terms of their formal qualities, iconography, and cultural context. Additional attention will be paid to transnational artists whose works influenced or were influenced by the art of the British Isles. The classes and excursions will actively integrate art history with the literature explored in the accompanying course.
Honors 492/Liberal Arts and Sciences 492: Topic: Culture of the British Isles 
(1 hour credit) This course will provide cultural and historical background for the locations on the program itinerary as well as serve as the connecting course for ENGL 315 and HA 311.
In London, students will be housed in shared rooms in apartments within Transport of London Zone 1 and 2. All apartments include a kitchen, bathroom, television, Wi-Fi, weekly cleaning service, utilities and linens. All housing will be within a 45 minute commute of the CAPA London Center, and students will be provided with a transportation pass to cover travel within Zone 1 and 2 for the duration of the group's stay in London.
In York, students will be housed in a bed and breakfast hotel.
In Edinburgh, the group will stay at Pollock Halls, University of Edinburgh, at the bottom of Arthur's Seat, a striking natural feature in an urban setting and within walking distance of the city center.  An Edinburgh bus pass is also included in the program cost.
In the Scottish Highlands, students will stay in youth hostels.
SAGE is dedicated to creating international engagement opportunities that meet the needs of all our students and providing resources to support you through the process of studying abroad. Study abroad is achievable for students of all identities including our BIPOC and LGBTQIA+ students, students with disabilities, and students with religious/non-religious viewpoints. Before selecting a program, consider how your identities may impact your experience abroad in unique ways and talk with your Program Coordinator about any program-specific concerns. Students with documented disabilities should discuss any accommodation needs with their Program Coordinator early in the planning process.
Check our Identity Abroad page and resources listed below for information specific to you and other students who may be on your program.
Open to undergraduate students from any accredited U.S. college or university. Minimum 2.5 GPA required (exceptions considered after submission of a petition).