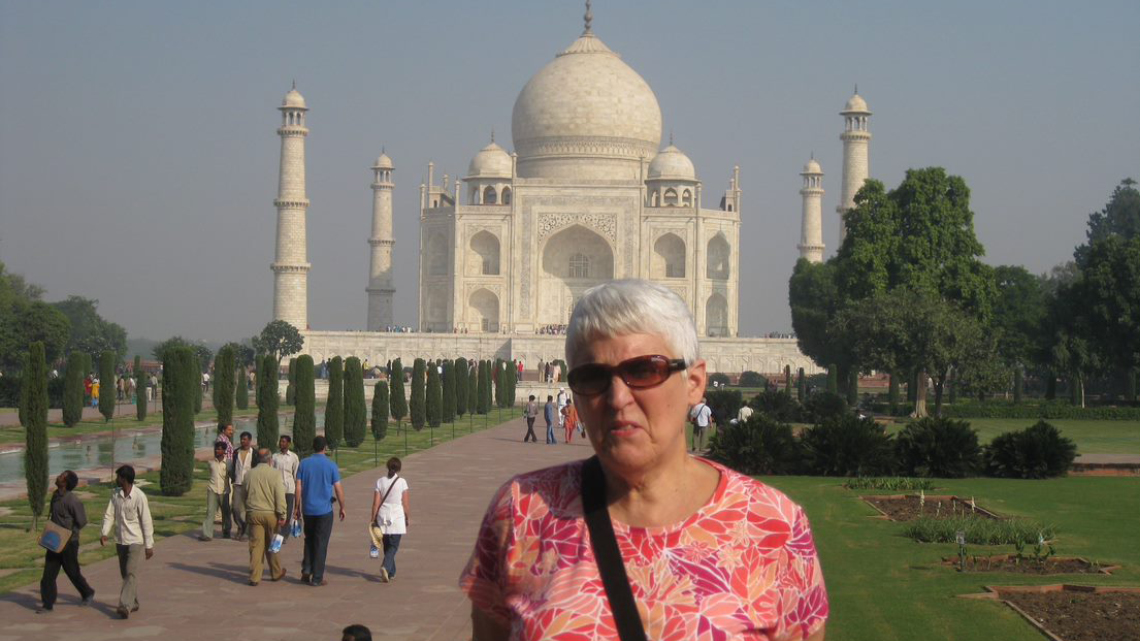 Margaret "Hodgie" Bricke had a knack for bringing people from around the world together. Whether welcoming an international student or scholar to her office with a warm cup of tea, encouraging and training faculty peers to develop their own study abroad programs, or building global educational opportunities for all KU students, Hodgie's commitment to international education remained constant throughout her three decades at KU. She retired from KU in 2012 as Assistant Vice Provost for International Programs but remained a strong ally until her death in 2020. Family and friends are honoring her passion for international travel and education with the Hodgie Bricke Memorial Scholarship Fund. 
"I met Hodgie in 2005 and recall her boundless energy and passionate commitment to international education. The consummate international scholar herself, she inspired and empowered countless others to pursue their dreams and enhance their educational endeavors through international experiences," said Charlie Bankart, Associate Vice Provost for International Affairs, of his longtime colleague and friend.
The new scholarship fund will provide travel support to students participating in two of Hodgie's most cherished international education initiatives; the Global Awareness Program (GAP), which Hodgie founded in 2004 and considered one of her most important professional achievements, and the Fulbright scholar program, which she was a devoted advisor to throughout her career. 
Hodgie chaired the committee that developed the GAP certificate.  Cutting edge, and the model off which many other institutions developed campus-based international education, the GAP program allows KU undergraduates to earn a special notation on their academic transcripts, highlighting substantive engagement with foreign language and internationally oriented coursework co-curricular activities, and/or education abroad. To-date, more than 3000 students have graduated from KU with GAP certification.
"I think that it is very easy for domestic students to hang out and form a bubble and unintentionally exclude individuals such as international students. However, GAP does a wonderful job as a facilitator and bridge for domestic and international students," said Joohye Oh, a current GAP student. "I cannot imagine KU without GAP!"
During her time in International Affairs, Hodgie contributed to KU's national recognition as a leader in study abroad programming.  Not only did she co-lead the British Summer Institute for seven years, but she also dedicated substantive time and energy to helping fellow faculty develop and lead study abroad programs of their own.  Hodgie saw studying abroad as a critical way for students to broaden their horizons, learn self-reliance and appreciate other cultures and societies.  She told one interviewer, "the best way to promote peace is to promote mutual understanding between people of different societies and cultures."
Hodgie's career eventually shifted to focus on the Fulbright Program.  Annually, she worked with 20 to 30 students as they applied for Fulbright scholarships to go abroad and with numerous Fulbright-nominated educators in diverse countries including the former Soviet Union, Russia, Ukraine, Azirbaijan, Kazakhstan, Armenia and Albania.  In all, she helped bring nearly 100 foreign educators to KU.  Hodgie herself was awarded two Fulbright grants for International Education Administrators, first to Germany in 1993 and then to Japan in 2000.  In recognition of her efforts, Hodgie was awarded the "Outstanding Service to the Fulbright Program Award" from the Institute of International Education.  
Established through KU Endowment, the Hodgie Bricke Memorial Fund is a tribute to her life and legacy. The fund aims to ensure that finances are not a barrier to KU students dreaming of studying abroad. In today's interconnected and interdependent world, it is critical that KU prepares undergraduates to be global citizens who are able to move past the stereotypes and meet others with mutual understanding and respect. Please consider supporting the Hodgie Bricke Memorial Fund.