International Education at Home and Abroad
---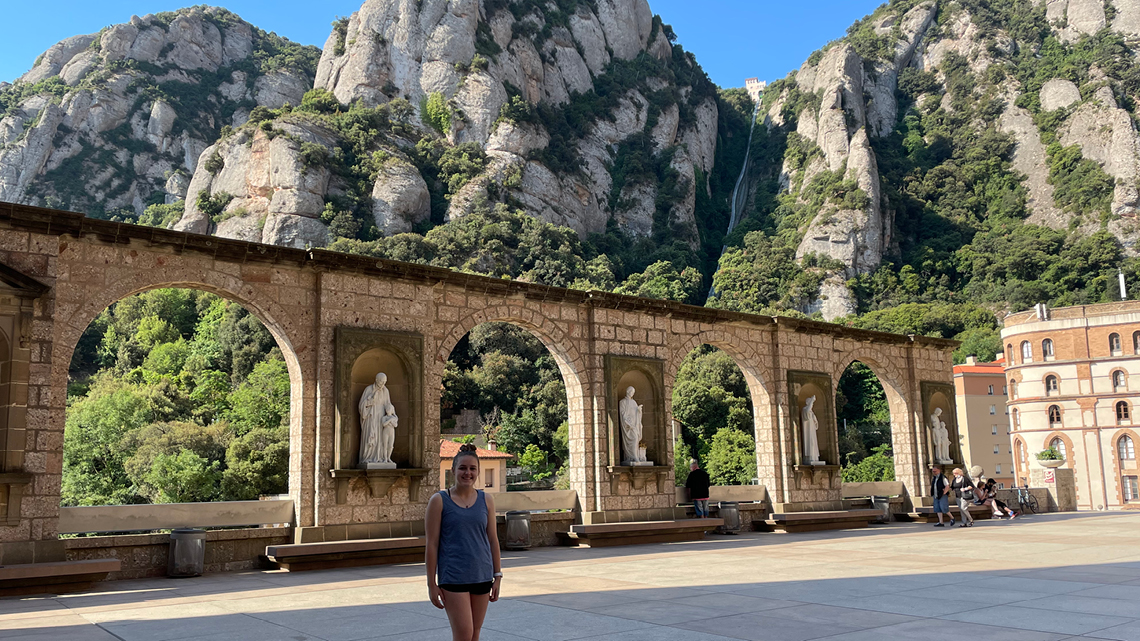 Ava Cormaney always knew that she wanted to study abroad during her undergraduate career. Originally from Lawrence, Cormaney graduated from KU in August 2021 with a degree in Spanish and a focus on pre-physician assistant studies. She decided to pursue a study abroad program in a Spanish-speaking location to improve her foreign language fluency, a skill that would translate well to her career post-graduation.
"Being able to speak Spanish in the medical field will help me tremendously as a healthcare professional. Studying abroad strengthened the confidence I have in speaking Spanish and I now feel less hesitant to speak my second language with patients who are primarily Spanish-speaking."
Cormaney had planned to study abroad in summer 2020, however her program was suspended as a result of the COVID-19 pandemic. Despite things not going according to plan, she was determined to turn her dream of studying abroad into a reality. In collaboration with her academic advisor, Cormaney modified her degree plan and incorporated a  study abroad program in Barcelona, Spain for six weeks during the summer 2021.  As a result of these actions, Cormaney was able to graduate from KU a semester ahead of schedule. Cormaney received scholarship support from Study Abroad & Global Engagement to participate in her study abroad program, which she said helped relieve financial stress and made the decision to study abroad easier and all the more enjoyable. 
In addition to foreign language study and international education, Cormaney took advantage of other opportunities to internationalize her degree at KU, both on and off campus. As a participant in the Global Awareness Program (GAP), Cormaney completed internationally-oriented courses on culture and diverse cultural approaches to health, wellness and gender studies.GAP certification complemented well her academic interests and Cormaney believes it helped her stand out as an applicant to graduate school and will benefit her future professional endeavors.
"The GAP certification pushed me to take classes I wouldn't have taken otherwise that I know will help me in my future career. My experience with study abroad and the GAP program broadened my perspective as a whole, and I can confidently say that I am better prepared to listen to the views and needs of others in a more empathetic and educated way."
Cormaney was recently accepted to University of Missouri- Kansas City to the pursue a Master's of Science in Physician Assistant Studies, and will begin her coursework in January 2022. She is excited for what the future holds and says she will always look back on her time in Barcelona fondly as it was the highlight of her experience at KU. 
"Studying abroad was an unforgettable, once-in-a-lifetime experience that I am grateful to have had. Through my study abroad experience, I became more confident in myself and my ability to navigate new places while using my second language." 
Participation in the GAP program had a similar, long-term impact, allowing Cormaney to expand her global knowledge beyond the Spanish language and culture.
"My participation in the GAP program provided me with a more well-rounded view of the world, and helped me learn about cultures different than my own. I think that all students at KU should pursue the GAP certificate to improve their own cultural competency, and to ultimately create a more compassionate and empathetic generation of Jayhawks."