KU Professor Leads a Record 51 Study Abroad Programs and Counting
---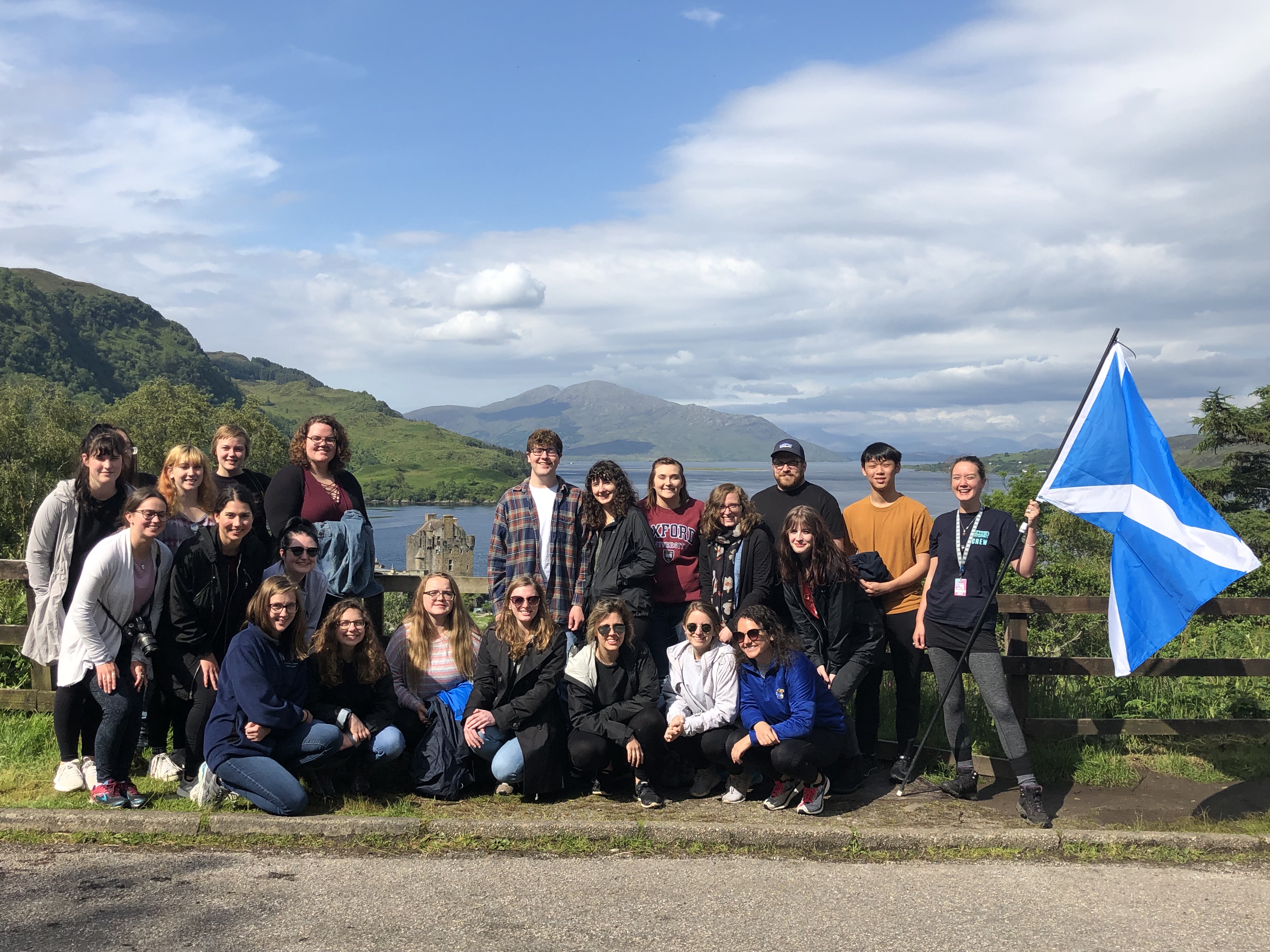 KU English Professor Mary Klayder has just three rules for the students who travel with her study abroad programs: 
Rule #1: Have a good time.
Rule #2: Let her have a good time
Rule #3: Don't let Rule #1 interfere with Rule #2
Those guidelines have paved the way for transformative experiences among the more than 1,100 students who have studied abroad with Klayder during KU's winter, spring and summer breaks.
Over the summer, Klayder led her 51st study abroad program as she took students on a month-long journey through Great Britain. For that record-breaking accomplishment in international education, KU International Affairs and Study Abroad & Global Engagement honored Klayder at a reception in October. Klayder is the associate director of undergraduate studies and University Honors lecturer in the Department of English and a Faculty Fellow for the University Honors Program.  "KU has many wonderful faculty who are dedicated to providing international education opportunities to our students," said Angela Perryman, Director of Study Abroad & Global Engagement, "but no one at KU - and quite possibly across the United States - comes close to matching Mary's achievements in this area."
Ten years after participating in Klayder's programs, Mason Heilman, a 2011 graduate in political science and secondary education, can still recite the rules Klayder established. But, it was her Rule #2 (let her have a good time) that shaped his outlook on traveling, which included periods of studying and living abroad.
"She taught me that traveling is meant to be an exploration," Heilman said. "I watched as she explored with wide-eyed enthusiasm while encouraging us to do the same. She gave me the courage and wonder to live abroad, and I can only hope I am someday able to pay that sense of excitement forward."
 Traveling for nearly two months of the year, Klayder leads students on three unique study abroad programs at KU: a two-week program to Costa Rica during winter break, a 10-day program in London over spring break and a month-long program in Great Britain in June. After participating in one of her programs, many KU students attempt to complete "the trifecta", or all three programs, prior to graduation.
Heilman's trip to Costa Rica with Klayder's program was only his second time outside the United States. He later participated in the London Review and met-up with the BSI program for a weekend in London.Heilman said Klayder's programs gave him the confidence to do an entire semester abroad in Spain. Heilman, who now lives in Boston and works for the Massachusetts state legislature, lived abroad and continues to travel incessantly, a universal trait among the classmates in his programs.
"It was such a big part of my experience at KU and probably one of my most transformative," Heilman said.  
That same sentiment was echoed over and over in the words of the many alumni who submitted their reflections on the personal, academic and professional impact of their study abroad experience(s) with Klayder. "Dr. Klayder is a stellar example of the power of a single individual to create far-reaching change in individuals and institutions" said Director Perryman. "The impact of her work extends far beyond the more than 1,100 students who have studied abroad with her to the lives of those with whom they interact, the organizations in which they work, and the communities in which they live and serve."